Foz do Iguaçu is one of the main trip destinations of the world, so it counts with many options for accommodation (a lot of them, really!). So when sombody is planning a trip to here it's common to be indecisive on what's the best option.
Are you feeling that way? I think I can help you.
I was born and raised in Foz, so when friends come to visit the city, they usually ask for tip of where to stay. I drew up this list with the best hotels in Foz do Iguaçu with different prices and locations:
#PanoramicView #Downtown #Lowcost
Del Rey Hotel is located in in the center of Foz do Iguaçu, one block away from the bus terminal, next to supermarket, bakery and steak houses. It offers colonial buffet for breakfast (with a lot of varieties), wi-fi and parking lot – everything included. The swimming pool is placed on the terrace of the hotel, with a panomaric view of the city.
Address: 1020, Tarobá Street – Downtown.
#Downtown # Budget
Recently built, in 2013, Ibis Foz do Iguaçu central region of Foz do Iguaçu, sorrounded by bars and restaurants. The hotel is 100% non-smoking and animals are not allowed. Some items are charged apart, like breakfast and parking lot, so bring it to count when comparing prices.
Address: 866, Almirante Barroso Street – Downtown.
#Downtown #Lowcost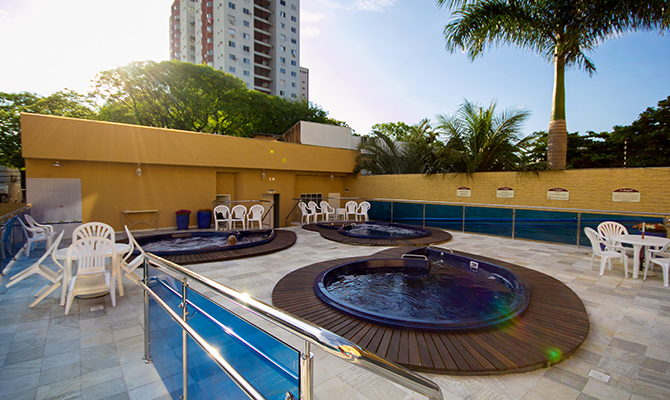 Situated in the main avenue of Foz do Iguaçu, Bogari Hotel is near the Urban Bus Terminal (Terminal de Transporte Urbano – TTU) and it contains a tourist service deck, bar, restaurants and jacuzzis.
Address: 106, Brasil Avenue – Downtown.
#Downtown #PanoramicView
Best Western Taroba Hotel is well located, being next to the Urban Bus Terminal (Terminal de Transporte Urbano – TTU). The wi-fi is free and the breakfast is served in an area where there is a panoramic view of Foz do Iguaçu.
Address: 1048, Tarobá Street – Downtown.
#Lowcost #Downtown
The Flôr Hotel counts with an economic charge, it's situated downtown Foz do Iguaçu, on an Avenue with many bars and restaurants. It offers breakffast, wi-fi and parking lot included. From there, you can easily get to many atractives of the region. Address: 597, Jorge Schimmelpfeng Avenue – Downtown    
#Modern #PanoramicView #Downtown
From Viale Tower Hotel you will have a beautiful view of the triple border, with an infinite edge pool on the roof of the hotel. It's located in a busy Avenue os the city, with restaurants and bars, besides easy access to touristic attractions.
Address: 232, Jorge Schimmelpfeng Av. – Downtown.
#NearCataratas #Nature
San Martin Resort is one of the closest hotels from Iguaçu National Park, located 400 meters from the entrance. Its also located beside the Bidrs' Park (from pool of the hotel you can hear the sound of the birds), near the airport and fairly close to Argentina. The environment is sorrounded with a lot nature and the hotel decoration is Ecolodge style.
Address: Km 21, Cataratas Road.
#CataratasAvenue #Thermalbeach #Family #Recreation
Mabu Thermas Resort has a lot of entertainment options, with pools and thermal beach, spa, paintball and recreation for children. It's between the hotels with the highest charges, but for those that can afford and specially for who have children, it's a great option.
Address: 3175, Cataratas Avenue – Vila Yolanda
#Cataratas #IguassuFalls #BestLocation
The Belmond Hotel das Catartas is the only one that's located inside the National Park, with the view to the Iguassu Falls. The hotel is usually the most expensive, because of its location and quality standart. The guests have exclusive access to the Falls before the opening to the general public and after the activities finish, so if you stay here, don't miss the sunset!
Address: Km 32, BR-469 Road – Iguassu National Park
Did you enjoy the accommodation's guide in Foz do Iguaçu?
Share on you social network!