When you think of Foz do Iguassu, what comes to your mind?
I would guess that the first pictures that came in your head were the Iguassu Falls and shopping in Paraguay. Or maybe of Itaipu and dinners in Argentina?
These touristic attractions of Foz do Iguassu are mandatory, of course. But getting to know only these places would be something I like to call the postcard tourism, which is coming back home with beautiful pictures, but without learning very much about the region.
So if you enjoy getting to know the soul of the places you go through, like we of the Local Planet do, keep on reading this B-side guide on what to do in Foz do Iguassu, with the tip from people that were born and raised around here:
.
1. Visit the Budhist Temple
The Busdhist Temple is a pleasant and very calm place, there are many things to see and it's quite big, there's a privileged view of the center of Foz do Iguaçu, besides having a great view of the neighbour city, Ciudad Del Este – PY.
The Temple counts with more than 100 statues, each one with a unique and special meaning. It's a great way to learn about a diferent culture and religion and also learn news things. Besides, the place is a nice setting for beautiful pictures.
Address: 99 Dr. Josivalter Vila Nova Street
Opening Time: Tuesday to Sunday, from 9:30a.m. to 5p.m.
Free entrance!
.
2. Learn about the cosmos on the Astronomical Center
For those who are interested in the cosmos or travel with children, the Astronomic Center Casimiro Montenegro Filho is very recommende. Different from other centers that I have visited, where it only show films of the outer space, here the visitors can observe the sky and stars in different ways.
"All of the tours involve observation, because there are telescopes for day and night. On Fridays and Saturdays, there is an specific time for night observation. The observations always happen, being suspended only when the weather conditions don't allow it", according to the local spokesman.
Opening Time: Tuesday to Sunday: 10a.m. until 4p.m. / plus the special times every Fridays and Saturdays: at 6:30p.m. (or at 7:30p.m. at summer time).
.
3. Savor Vegetarian Food at Cheiro Verde
The restaurant is simple, but has many tasty options of the oriental and vegetarian culinary, being a great option even for those who aren't adept of the meat-free lifestyle. Cheiro Verde is located downtown and it's administered by a lovable taiwanese family.
It's has a friendly price and an "all-you-can-eat" buffet, which includes salads, vegetarian sushis, several hot dishes and dessert.
Opening Time: from Tuesday to Sunday, from 11:30a.m. to 3p.m.
Address: 746, Tarobá street, Downtown, Foz do Iguassu
Check out here

a complete list with more suggestions of good restaurants in Foz do Iguassu.
.
4. Walk at the JK Fair (Ferinha da JK in Portuguese)
The JK Fair happens every Sunday morning, with products of small producers, artisans and artists from the region. Meeting point of the people of Foz do Iguaçu, it is a great opportunity to learn more about our culture, shop and support the local business and also have breakfast or lunch.
Besides that, on many Sundays also happen cultural shows, yoga classes, small fairs with animals to be adopted and other interventions. Everything for free! <3
Opening Time: Sundays, from 8a.m. to 12p.m.
Address: At the beggining of JK Avenue, next to Praça da Paz, Downtown, Foz do Iguaçu
.
5. Meet Bosque Guarani Fair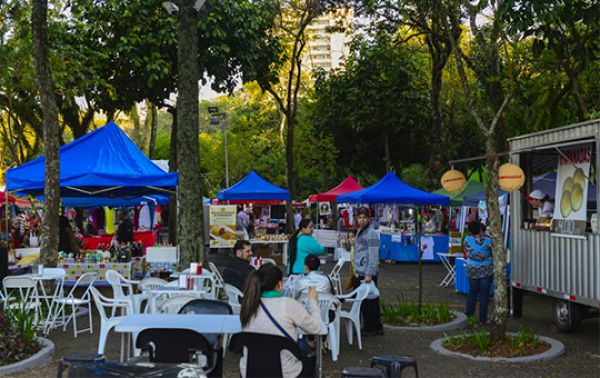 Another version of the Fair of JK happens on Fridays, in front of Bosque Guarani, in the center of the city. The stands have handmade items, colonial products and a space with several types of food.
The fair begins in the afternoon and goes until night, including musical attractions in the "park"of the place.
Opening Time: Fridays, from 4p.m. to 10p.m.
Address: 875, Tarobá street, in front of Bosque Guarani, Downtown, Foz do Iguassu
.
6. Go to the Biological Station Bela Vista
A project developed by Itaipu, the Biological Station Bela Vista is a protection unity for more than 960 plant genera and 50 species of animal like ocelot, alligator, coati, red macaw, jabuti, owl, snakes, capuchin monkey and jaguar.
The animals that are on a risky situation are rescued and treated at the place, that counts with modern structure and humanized cages.
The visit is with a guide, that also speak other languages, and goes through a 2 km trekking. So go wearing comfortable clothes and sneakers to enjoy the walking. 😀
Opening Time: from Tuesday do Sunday, 8:30a.m., 9:30a.m., 10:30a.m., 1:30p.m., 2:30p.m. and 3:30p.m.
Address: Itaipu Visitors Center, 6702 Tancredo Neves Avenue
.
7. Contemplate The Nature at Iguaçu Expedition
Great tour for those who want to enjoy better the nature at the Falls land, the Aguaray Expedition is a tour of approximately 3 hours, in the middle of the forest and by the Iguaçu River.
To start, there is a walk of 1,5 Km on a track rich in fauna and flora. When the visitor gets to the river, receive instructions and is equipped with safety items for a calm paddling on kayaks or stand up paddles. To end, a refreshing waterfall bathing!
Opening time: according to booking
Address: KM 20,5 Cataratas road, attached to Hotel Canzi
.
8. Parachuting
For those who are up to a more intense experience, the Skydive Foz is a mondatory stop. Flying over Itaipu and the dammed area, a jump of few seconds can make you feel more alive than ever.
The parachuting school has a great structure visitors and guests, so if you don't have the guts yet, but want to visit or enjoy a sunset there, just come!
Opening Time: every day, from 8a.m. until the sunset (except when the weather is bad)
Address: 97, Angela Aparecida Andrade Street – Hércules Airport (near the Budhist Temple)
. 
9. Visit the Muslim Mosque
Did you know that Foz do Iguaçu counts with the second bigger Arabian community of Brasil? That's it, it's only behind São Paulo!
So our city is also a headquarter of a beautiful Muslim Mosque, calles Omar Ibn Al-Khatab. On the inside there is an ornately decorated room with geometrical forms and paintings.
The women must enter the place wearing pants an cover the head with a kerchief – on the Mosque is provided some of those.
Opening TIme: Monday to Friday, 9a.m. to 11:30a.m. and from 2p.m. to 5:30p.m. / Saturday, from 3a.m to 11:30a.m.
Address: 599, Meca Street – Jardim Central
.
10. Taste Arabic Food
Foz do Iguaçu is rich not only in cultural beauty and touristic attractions. The city also counts with more than 80 ethnicities living in harmony. And being in a place like this is a great opportunity of experiencing, learning and tasting new cultures, like the Arabic culinary.
One of the most famous is the shawarma – a syrian bread sandwich stuffed with chicken and meat strips. Besides that, it is possible to taste other typical and tasty dishes, like the cigar of grape leaf, tabouleh, mjadra (rice with lentil), homus and babaganoush.
In Foz do Iguassu there are also candy stores specialized in Arabic candies, like Almanara, that counts with baklavas stuffed with nuts, almonds, pistachio, and others.
.
11. Visit the Conscientiology Campus
The Alter Studies Center – CEAC the Conscientiology, is a science developed by the Professor Waldo and which is studied at CEAC.
It counts with laboratories for scientif studies of psych phenomena in general. Besides, there are weekly opening meetings, courses, study labs and more.
The Conscientiology is also the headquarter of the Holoteca, one of the biggest libraries of the country, with books specifics of the area, besides general books, classical comic collections, and others.
Opening Time: daily, from 9a.m. to 5p.m.
Address: 1635, Cosmoética Street – Downtown
Telephone: (55) 45-35253652
.
12. Meet Salto Monday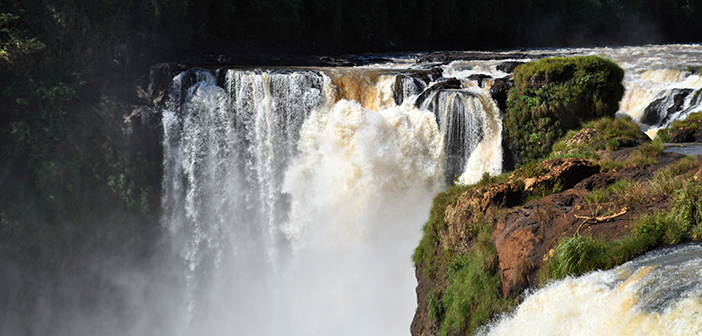 At about 20 Km from the border, Paraguay also hides a natural spectacle – three imposing waterfalls surrounded by a lush tropical vegetation. The structure is composed by tracks, belvederes and walkways, besides a snack bar.
The place also permits the practice of abseiling, trekking and mountaineering on the rocky walls surrounded by lots of water. There is also a tree climbing and zipline circuit.
Opening time: Every day, from 7:30a.m. to 6p.m.
Address: Parque Municipal Saltos de Rio Monday, Presidente Franco, Paraguay
. 
13. Run at the National Park
For those that practice street running, doing it inside the National Park is unique experience.
Imagine running surrounded by the atlantic forest, hearing the sound of birds and the view of the amazing Falls waiting for you at the end. <3
On the road inside the Park there are 11 km from the entrance to the Falls, with a lot of ups and downs. This ideal setting is the headquarter of the annual Falls Half Marathon, when runners from all over Brazil and professional athletes from every part of the Earth, come to have this experience.
But you don't have to wait for the Half Marathon, because it is possible to go alone during the visitor time. You just have to purchase the ticket as usual, but then follow running instead of taking the bus. 😉
. 
14. Have Dinner at Cataratas Hotel
The Cataratas Hotel is located inside the Iguassu National Park and offer good options for dinner, even if you aren't hosted there. The Itaipu Restaurant has a terrace with a view to one of the 7 Wonders of the Nature, besides à la carte dishes with Brazilian ingredients.
Another option is the Ipê Restaurant, that opens also for lunch. At dinner, it is served a traditional gaúcho barbecue, with many options of meat, fish and vegetables. There are also vegetarian alternatives.
If you aren't a hotel guest, the entrance in the Park is permitted from 8p.m. on and it isn't charged. However, it is needed to book the table in advance.
Opening time: Itaipu Restaurant – from 7:30p.m. to 11p.m. / Ipê Restaurant – from 12:30p.m. to 3p.m. and from 7:30p.m. to 11p.m.
Address: KM 32, BR 469 road, Foz do Iguassu, Brazil – inside the Iguaçu National Park.
.
15. Find Out The Secret Falls of Foz do Iguassu
The Iguassu Falls are the most visited touristic place in Foz do Iguaçu and is between the most beautiful natural attractions in the world. However, the city also has more than 40 smaller waterfalls hidden through the woods of the city.
The Iguassu Secret Falls tour contemplates the visit to some of the most impressing of them during a whole day, including lunch, 6 tracks and refreshing bathes! For the transportation, the visitor can choose between a bike or going by van. An excellent option if you enjoy nature and want to know beyond the common touristic attractions of the city.
Opening time: the tours take place in booked days, from 9a.m. to 6p.m.
More Information: www.facebook.com/Iguassusecretfalls
.
16. Skateboard on the city skate lanes
The skateboard has always been popular in Foz do Iguaçu, after being the headquarter of the the X Games, it got even more popular. So as it strengthens, there was a motion between Itaipu and an organization of the Vila A residents that headed a street skateboarding lane in the neighbourhood, which was followed by many others by the city hall.
For those that always travel with the board, it's worth checking it out:
Street skateboarding lane at Vila A: considered one of the best lanes in Paraná, measuring 25m x 16m, there are many sized boxes, quarter, deltas, ramps, rails, stairways and wall.
Parque Remador Omar de Oliveira (Porto Meira): with ramps, rails, stairways and box, the place was the headquarter of the Amateur Skateboarding Championship of Paraná in 2015, with athletes from all over Brazil.
.
17. Wake Iguassu Cable Park
In a peaceful environment and away from the city center, the Wake Iguassu Cable Park offer wakeboard classes both for beginners and professionals in a lake equipped with steel cable, two ramps, rail and cone – so as the visitors can have fun on the board with radical maneuvers.
Surrounded by lots of green, the place was recently the headquarter of a wakebord championship. Another tip is to enjoy the healthy food that the bar offers and have fun with the guys!
Opening time: it's open from 2p.m. to 8p.m., but for taking the wakeboard class it is needed to book.  
Address: 97, Angela Aparecida Andrade street, Foz do Iguassu, Brazil
–
Any other tip on what to do in Foz do Iguaçu? Tell us on the comments!